In all matters related to Semantic Technologies, European Research and European Industry plays a leading role. The annual SEMANTiCS conference is the focal point to showcase the vital European Semantic Web and Linked Data scene. To attract even more attention, we introduce a novel prize. 
About the ELDC
The European Linked Data Contest awards prizes to stories, products, projects or persons presenting novel and innovative projects, products and industry implementations involving linked data. The two-step contest consists of a country wise nomination, followed by a pan-European contest.
The ELDC is given in two categories:
Linked Open Data Award
Linked Enterprise Data Award
At the heart of the contest is an international jury of ambassadors from all over Europe. Those ambassadors act as country representatives to look out for the most exciting projects, people and products and elect the winner of the contest. For those countries we did not found an Ambassador the Jury will be constituted by the members of the general Conference Chair Board.
What is in for you?
The ELDC is more than yet another competition. We envisage to build a directory of the best European projects in the domain of Linked Data and the Semantic Web. The year by year contest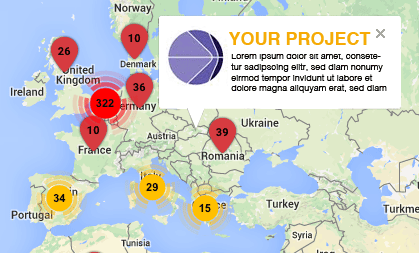 ensures the relevance and quality of this directory. Even if you are not one of the finalists or winners, you get excellent visibility in this future directory. So ensure that you are on the map! Participate in ELDC!
This year the ELDC is awarded in the categories Linked Enterprise Data and Linked Open Data, with €1.500,- for each of the winners. Winners also get  tickets for the SEMANTiCS conference in September this year. Second and third place will get a honorable mention together with the ELDC trophy. The award ceremony will be held on the 13th of September in Leipzig.
Timing
May 2016: Setup the network of ELDC country ambassadors
June 2016: Call for Nominees
September 5, 2016: Submission Deadline (

extended

)  
September 9, 2016: Country finalists are chosen and presented 

(

extended

) 

September 12, 2016: Jury to vote on the winners

 of the pan-European contest

September 13, 2016: Award ceremony at SEMANTiCS 2016
Criteria
We are seeking for Europe's Crème de la Crème of Linked Data and Semantic Web. As your project, product or industry implementation ...
shows a high degree of innovation
triggers network effects
embraces open standards
proves technological matureness
shows great potential to be utilised in multiple domains
achieves a high degree of comprehensibility for the users
... you should definitely participate at the ELDC and win additional attention on an international level for your project and maybe the prize money awarded by the ELDC.